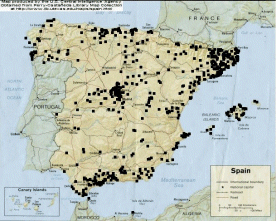 Click on the map for geocache locations in Spain
Welcome to
Geocaching in Spain.


If you have never tried geocaching, here you will find an introduction and a "beginner's guide" to the equipment and programs you will need. You don't need to be an expert in anything and geocaching is great for all ages from 4 to 94. It gets you outdoors and visiting beautiful countryside you wouldn't otherwise find. So read this introduction and get started

Remember - the only thing you absolutely need is a GPS unit!

Happy geocaching!